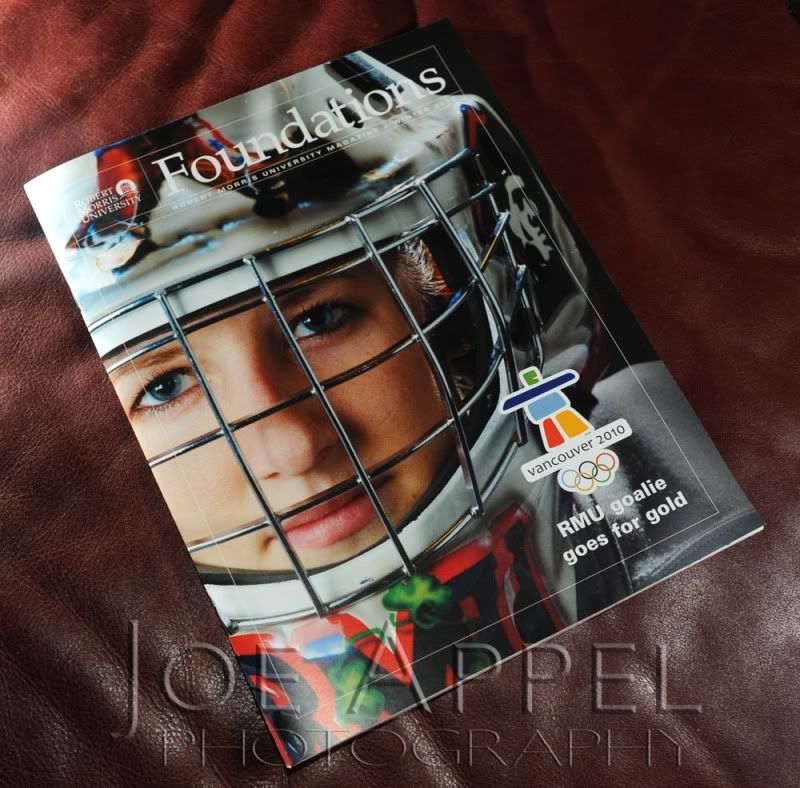 Robert Morris University Foundations magazine features a photo of former women's hockey star Brianne McLaughlin – the Colonials' all-time leader in shots saved.
In case you haven't guessed, I took the photo:)
Brianne stopped an NCAA Division I record 3,809 shots over her four year career at Robert Morris.  That earned her a spot on the U.S. Olympic Team!
The photo turned out really well especially considering how quickly the shoot came together.  We met at Bladerunners in Harmarville where Brianne was working out late last year.  Management was kind enough to give us a meeting room to use as a studio.
The lighting setup was pretty simple with a softbox at camera left providing the main light, a reflector to the right, and another flash high and to the right to provide some separation from the background.  I kept the light close to Brianne to soften the shadows from her mask.
She's a quiet, hard-working, athlete who is also a very gracious young lady.  I'll be rooting for her and the rest of the U.S. women when they take on China, at 3 p.m. on Sunday, February 14.